Kakkou no Iikagen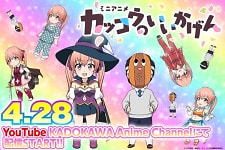 Synonyms: Kakkou no Iinazuke Mini Anime
Japanese: カッコウのいいかげん
Type: ONA
Episodes: Unknown
Status: Currently Airing
Aired: Apr 28, 2022 to ?
Producers: None found, add some
Licensors: None found, add some
Studios: AQUA ARIS
Source: Manga
Genre: Comedy
Duration: 2 min.
Rating: PG-13 - Teens 13 or older
Score: N/A1 (scored by - users) Ranked: #179702 Popularity: #15272
Members: 311
Favorites: 0
Sinopsis :
Kakkou no Iinazuke mini anime released on the KADOKAWA Anime YouTube channel.
Loading....
Komentar