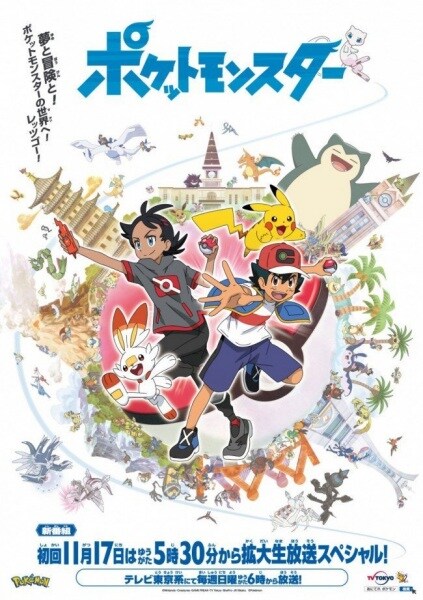 Synonyms: Pocket Monsters, Pokemon 2019, Pokémon
Japanese: ポケットモンスター
English: Pokemon Journeys: The Series
Spanish: Pokémon Viajes Serie
Type: TV
Episodes: Unknown
Status: Currently Airing
Aired: Nov 17, 2019 to ?
Premiered: Fall 2019
Broadcast: Fridays at 18:55 (JST)
Producers: TV Tokyo, Shogakukan-Shueisha Productions, MediaNet
Licensors: The Pokemon Company International
Studios: OLM
Source: Game
Genres: Action, Adventure, Comedy, Fantasy
Demographic: Kids
Duration: 23 min.
Rating: PG - Children
Score: 7.161 (scored by 20,231 users)1 indicates a weighted score. Ranked: #31082
Popularity: #2323
Members: 59,984
Favorites: 401
Sinopsis :
di wilayah Kanto, Satoshi diundang oleh Profesor Yukinari Ookido ke upacara pembukaan lab Profesor Sakuragi di Kota Vermillion. Selama pidato seremonial, Profesor Sakuragi menerima peringatan tentang Pokemon yang mungkin langka muncul di pelabuhan Kota Vermillion, membuat Satoshi dan pelatih lainnya bergegas ke daerah itu dengan harapan menemukan Pokemon misterius itu. Di pelabuhan, mereka menemukan Lugia pokemon legendaris sedang bertempur dengan pelatih lain. Memperhatikan taktik pelatih lain, Satoshi dan rekannya, Pikachu, menyerang Lugia dengan serangan Thunderbolt. Tidak terpengaruh, Lugia melarikan diri, lalu Satoshi melompat ke punggungnya. dia bertemu anak laki-laki lain, Gou, yang juga melompat ke punggung Lugia. Keduanya menunggangi Lugia membawa mereka dalam petualangan aneh melintasi lautan. Saat itu memungkinkan keduanya kembali ke tanah, Satoshi dan Gou mengucapkan selamat tinggal pada Lugia dan kembali ke Institut Sakuragi. Terkesan dengan temuan Gou dan wawasan Satoshi yang diambil selama pertemuan mereka, Sakuragi meminta keduanya menjadi mitra penelitian barunya. Dan begitulah perjalanan duo ini dimulai, bepergian melintasi berbagai wilayah untuk bertemu banyak Pokemonyang memiliki kemampuan Gigantamax!
Loading....