Shin Tennis no Ouji-sama: U-17 World Cup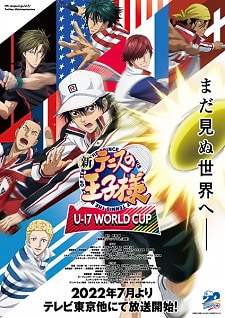 Japanese: 新テニスの王子様 U-17 WORLD CUP
English: The Prince of Tennis II: U-17 World Cup
Type: TV
Episodes: Unknown
Status: Currently Airing
Aired: Jul 7, 2022 to ?
Premiered: Summer 2022
Broadcast: Thursdays at 00:00 (JST)
Producers: Production I.G, TV Tokyo, Nihon Ad Systems, Marvelous AQL, Shueisha, Jinnan Studio, Bandai Namco Arts
Licensors: None found, add some
Studios: M.S.C, Studio Kai
Source: Manga
Genre: Sports
Theme: School
Demographic: Shounen
Duration: Unknown
Rating: PG-13 - Teens 13 or older
Score: N/A1 (scored by - users)1 indicates a weighted score. Ranked: #144502
Popularity: #7013
Members: 5,820
Favorites: 78
Sinopsis :
Sequel to Shin Tennis no Ouji-sama OVA vs. Genius 10.
Loading....
Komentar